http://www.stevesforums.com/forums/v...214849#p214849
[align=center]
Posting images
[/align]
There are only two ways to post here. The first is to upload your images to this website and the second is to upload them to another and link to them.
Uploading your images to this site
For this I will be using images when needed. In all but one case I will be showing images of both skins (things which change the appearance of the forum).
1.
Enter the forum which relates to your photograph.
2.
Click on
New Topic
on the right of the screen.
[align=center]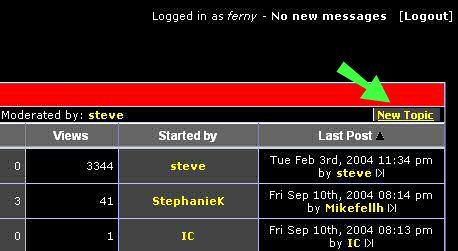 [/align]
[align=center]
[/align]
3.
When this page has loaded scroll down (if you need to) until you find a small button in the centre of the screen marked
choose
. Click this button.
[align=center]

[/align]
[align=center]

[/align]
4.
A box will pop up. Use this box to browse your computer until you find the photo which you wish to show us. Then click on
open
. The box will close.
[align=center]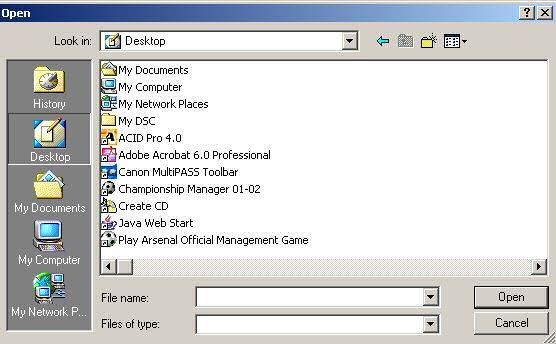 [/align]
5.
The blank box to the left of the choose button should now contain text. Click on
Send
below and to the right of the choose button.
[align=center]

[/align]
[align=center]

[/align]
6.
The page should now change and you will be taken to your post. You image will have uploaded. It may take a while to change. It depends on your connection speed and the size of the image. Please be patient.
Things to bear in mind
Images
must
be under 250kb is size. They will not upload otherwise.
If an image is bigger (dimensionally) that a certain size the image will not show up in your post. Instead a link to the image will be shown in your post. (I am not aware of the rules to this, can someone please let me know?)
You can still preview your image and post by clicking
Preview
instead of Send. If you do so the image will upload (again. please be patient). Take note, it will not show up in the previewed post. Instead you will see a link which you can click to preview the image.
You can only post one image at a time. If you wish to upload multiple images you will need to
Reply
to your post.
People not registered to this forum cannot see the images which you upload to this forum.
You can delete your images from this website at any time but clicking on the
edit
button on your post, scrolling to the bottom of the new page, ticking the box to the left of
Delete attachment
and then clicking send.
You can upload an image after posting by clicking on
Edit
and following the above guide from number 3 onwards.
You can delete and edit your attachment as many times as you wish.
Linking to images hosted on other website
This involves you uploading an image to a website, copying its address then posting the link on here. It is called
hot linking
[/u] and is not allowed on some website. There are dedicated places which are free and designed for just this purpose. You can find some underneath this post. Each website should tell you how to upload to them.
You have probably read the above text and seen the images. I will trust you know your way around the forum by now. I will still use images, but only using the
Shades Skin
(the black one). Internet Explore was used. I will be using this forums logo as the example image.
1.
Find the image which you have upload and
right click on it
. A box will pop up, select
properties
and another box will pop up.
[align=center]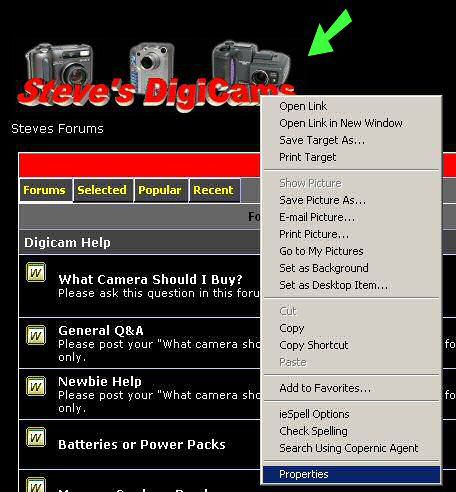 [/align]
2.
In the centre of this box you will find a line marked
Address (ULR)
. this is the address of the image. Click three times on the address itself (which will start with http://) until it goes blue, right click and select copy.
[align=center]
[/align]
3.
Enter the appropriate forum for your image, click on
New Topic
on the right and a different window will be shown to you. You will see a line of small grey images in the centre on the screen. Click on the one which looks like a white box with three different coloured balls. Some text should appear in the box which you type your post in. Click in between the two ]['s, right click and left click on
paste
. You should now have entered your image address between the ]['s and it should look like this.
[align=center]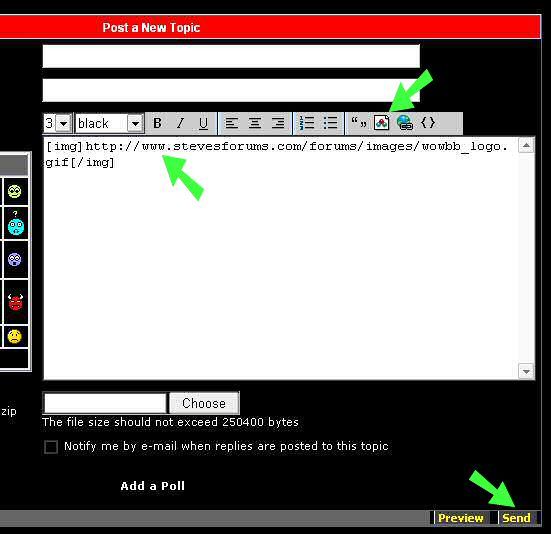 [/align]
4.
You can now type you text (if you have not already) and click on send, or just click on send. You can also repeat the process again, posting as many images as you like. If you do post more than one image or post an image after text, please press
return
before the first [img] of each image. Otherwise your post can look odd and images can be stuck together in a long line. Forcing people to scroll left and right to read your post and any other replies.
There are no restrictions on image size or dimensions. Although this is nice please do not post images that are very large or lots of images in one post. Not all people have fast connections and if your post is taking a long time to load people may give up. If you want to post lots of images, then why not post one or two to show people what they're about then the links to the rest?