Macro Imaging Using SLR Lenses
The bitter cold temps of Chicago Winters dictate that we keep busy indoors. Too cold for astronomy, (Used to stay out all night as a kid), but unless it's something rare, I'll wait until early spring to bare the brunt of biting winds and the cold kiss of telescope metal.
There are a host of accessories for the Canon Powershot S3 - got me a basketful already. I have my eye on the 3x teleconverters, but must heat the house instead, as they are quite expensive. They also have macro lenses available, but since I already possess zoom lenses from my Nikon 35mm film SLR, I thought I might experiment and see if they could be of any use.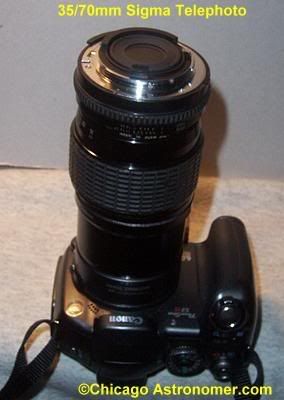 Results were very good using lenses not meant for the S3 and the experimental images are as follows:
I used one of my old Chicago Police Lapel Pins from my glory days as an instructor for the experiment...:bobby:
The pin has good detail and blue coloring to display any color changes and tilted it for shadow relief.
I used the following settings:
Camera on manual
ISO 400
1/40
f-3.5
Tungsten
Vibrant
Spot Metering
1600x1200
2 second timer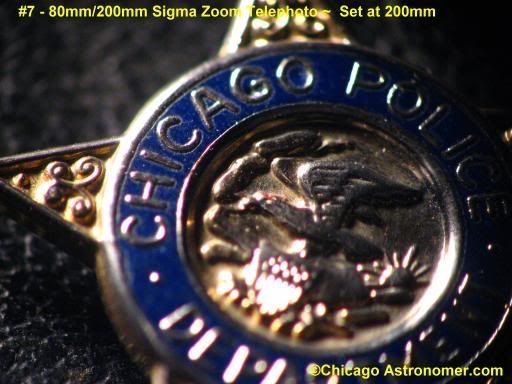 Mid-way magnification
The entire facinating photographic sequence (12) and full narrative can be found at the Chicago Astronomer:
http://astronomer.proboards23.com/in...ead=1171156887
0r
http://tinyurl.com/38uhmo
I temporarily attached the Sigma lenses "backwards", to the S3 lens adapter. For this experiment, I simply used simple clear postage tape to secure it.
I am quite satisfied on the performance of the "backward" lenses and just now need to create an adapter to attach them to the S3 for intricate and facinating macro world imaging. It was well worth the time this afternoon to increase the capability of the S3.
I wonder if i can adapt this technique to the telescope? When it gets warmer I'll conduct some more experiments.