I come across this little free tool in my recent attempts to try
to set up and configure the colours in hex in a free phpBB forum
and found it very useful so I thoughtI might pass it along for
those interested in forum / web site editing.
http://www.colorschemer.com/colorpix_info.php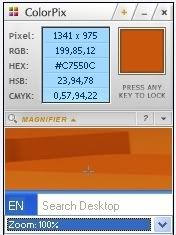 you just place the mouse pointer over a colour to get the hex value
you want to place in the configuration.
Remembering to remove the hash (#) and enter only the other charactors.
PS. the free site I am playing around with,as a personal challenge
only>>> not that it might ever go on line :-)can be viewed here.
http://musketsforums.forumotion.net/index.htm
Edit: It has:-) at
http://www.musketsforum.com/index.htm
whenI have a mind to, I'll try some other stuff as well with it.
...................:|............musket.