PowerExif Editor
is released recently by Opanda.
IExif, a Exif viewer and plug-in of opanda'sanother product, is strongly impressed on people's memory.
Now, PowerExif Editor just provides a powerful Exif editor for image files.
It allows you to modify each item of Exif data, to delete some items you dont want to keep it with image files, or add some standard Exif data which image file has lost. Of course, you can remove all of Exif data from image if you want.
Users can create a Exif data template by PowerExif Editor. Then these Exif data template file can be imported or exported. PowerExif Editor provides 31 items of GPS information to add into image file.
If you want to stamp copyright and author information to yourselves' works, you can edit a Exif datatemplate file, then import them into your works as a batch.
When you want to record Exif data into image files, remenber to try PowerExif Editor.
Download:
http://www.opanda.com/
Main Interface: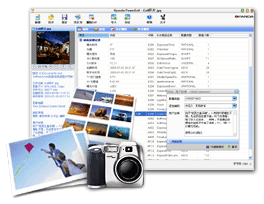 Batch Process ( Modify & Remove ):