Well, first off, if this is the wrong forum then I am sorry. I wasn't sure whether or not to post this topic in "What Camera Should I buy" or not. But since I have a question about a camera, I figured it belongs here. Anyways, here it goes....
Ok, so I recently started attending fights ringside (press row), and on Thursday, I brought a camera for the first time, because I want to have my own pictures in my articles and maybe get a friend in as a photographer. Well, I ordered a Z2 and it was supposed to arrive on Wednesday of last week, it didn't. So, I got stuck with some 3.2 MP Samsung and the pictures were.....unflattering, to say the least. Here is one of the pictures...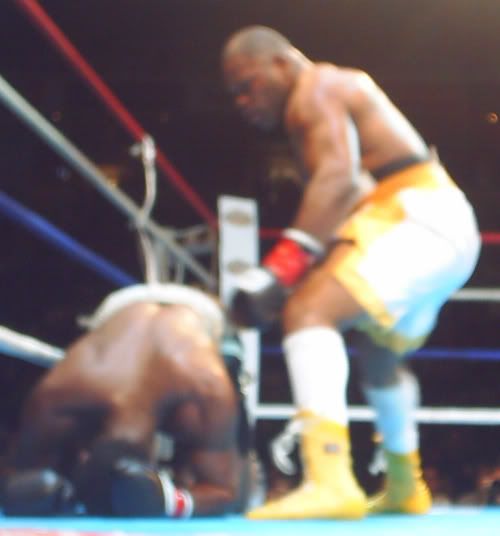 Yeah....it's pretty bad. Now, as I'm about to reorder the DiMage, I want to be sure that I am going to be getting good quality pics. It looks nice, and the review on here and a couple other sites were helpful, but since I'm a photography newbie, I don't know if the camera is going to suit my needs. And just in case it is relevant (if you were to suggest another camera instead), I am buying this as a refurb, and my budget tops off at about $250 (that includes any warranties). So, do you think it suits my needs? I want good pictures....so this is fairly important for me. A couple other things that might be important ....
If I do prints, they won't be any bigger then 8x10[/*]
Video Capabilty/Quality doesn't matter to me[/*]
Flash photography isn't allowed at these events[/*]
I want a fairly simple to use camera, I'm not at all seasoned in photography, and neither is anyone else who will be using this camera[/*]
Incase your not sure, the lighting for boxing is usually a dimly lit audience, and a brightly lit ring.
[/*]
Thanks for any help