Well my new digital camera arrived today (Kodak EasyShare C533) and so far I'm loving it. I took a few pictures of the car, but was most impressed with how well it takes "close up" shots compared to my old and slowly getting dated, Sony DSC-P50.
Here's a picture of the hood ornament, you can see in the reflection the power lines that over head (look like scratches) and the trees, clouds, thumbnail, click to enlarge: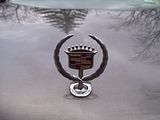 PhotoBucket by default resizes, with the way I have it set, but you can still see the quality of the image.
Another feature is Video with sound, my old camera didn't have sound, so that means you guys are in for a treat, my currently, "holy" muffler makes this baby sound like an old small block:
http://www.youtube.com/watch?v=wo1Vf4rw_TU
I'm not sure how to "embed" the video in my post.
<object width="425" height="350"> <param name="movie" value="http://www.youtube.com/v/wo1Vf4rw_TU"> </param> <embed src="http://www.youtube.com/v/wo1Vf4rw_TU" type="application/x-shockwave-flash" width="425" height="350"> </embed> </object>
So combine this with the Milwaukee Sawzall I'm getting for Christmas and I'm a happy camper.
If the youtube doesn't work yet, try this photobucket one:
click:
The Review on this site helped make my decision on that model, I was surprised at how well the sound actually was with how it was described in the review, possibly an update to the camera or firmware, but it sounds pretty good, might be higher decibels effect it or motion, will have to see.