I went from this
- which only held the D90 with a (any) lens attached and the 55-200, forcing the flash and Sigma 10-20 outside
To this
- Over stuffed for the photo as usually do not carry the second flash (kept in my umbrella/stands case) or D40 body (stored in closet). This just illustrates capacity, and will definately support future expansion.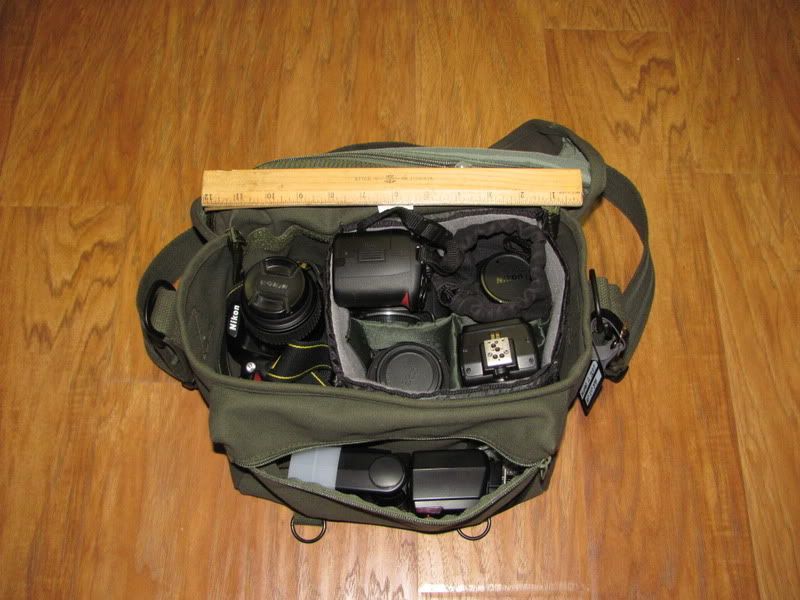 That is a Domke F6. Brought basic equipment into the store and tried LowePro, Tamrac sling and backpack models, and looked - but not tried - a couple other brands, but kept coming back to Domke. Initially was thinking the F3x which slots between the F6 and F2, but was too large and with 1 front center latch, access would be too easy - particurally for pick-pockets.
Here is typical setup
. While not able to see it, as packed, the lens hoods for the 10-20 and 55-200 are in there - reversed with the lens sitting in them. The empty slot will easilly support a future 50 prime, and the depth allows upgrades to 16-85 (or 18-105) and 70-300. Another possible setup option, depending on preference, is getting some foam from a hobby shop and creating a cradle to support the D90 with no pressure on the lens pointing downward. Also, that 4 compartment unit is not flush on the right, so could be moved over about an inch, supporting a larger camera body if upgraded to a 300 (400?).