I was a camera flea market last weekend, I went there looking for a 58mm to SeriesVII filter adapter...well I found one but it was attached to a "Cherry" brand Semi-Fisheye converter lens (the type you screw onto the filter thread of your existing lens).
Now I usually avoid screw-on converter lenses because most dSLR lenses are made out of snap-together plastic these days, plus it adds extra glass...not to mention I've tried the Raynox fisheye converters on my dSLR in the past at the Henry's shows and I couldn't bring the image into focus (even when using manual focus).
I had left my camera at home the day of the show since I didn't think I'd be buying another lens, but for $35 I though I'd risk it (besides I needed the filter adapter and I could always resell the lens if it didn't work).
When I got home I tried the lens on my camera, and not only was it able to autofocus but the results were quite decent for a cheap converter lens. Having used a dedicated fisheye in the past to shoot Niagara Falls I knew it takes a while to get decent shots as it's very easy to get things you don't want in the shot (like your feet), and get flare, etc. so I'll need some practice with it but here are some examples I took the day after buying it:
The "Cherry" Semi-Fisheye lens itself: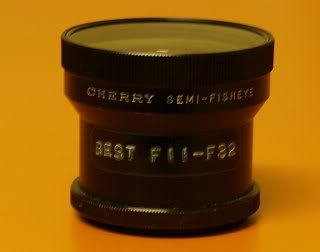 The front of the Toronto Camera Club (the circular effect is produced when zoomed to 14mm):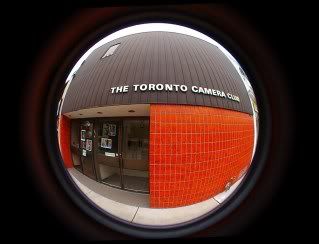 The Club's Gallery & Library (taken to show that if zoomed to ~25mm
that a full frame fisheye effect can also be achieved with this lens):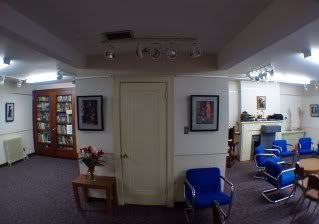 The Club's main hall, in the image you can see the front doors on the left, and the podium and back wall on the right (I took this one to calculate how many degrees the lens is capable of; it's ~150 degree view, a full fisheye is 180 degrees, but 150 degrees is more than enough for me for $35):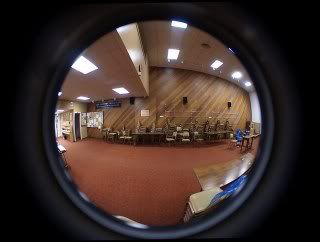 Larger versions of these images (1024x768) can be found at:
The Lens Itself
http://img.photobucket.com/albums/08.../P6016732r.jpg
Front of TCC
http://img.photobucket.com/albums/08.../P6016709r.jpg
TCC Gallery
http://img.photobucket.com/albums/08.../P6016704r.jpg
TCC Main Hall
http://img.photobucket.com/albums/08.../P6016737r.jpg
I also bought a pinhole film camera kit at the show, but as that requires building it I'll have to find the time to do it, so don't expect results from that for a while (although I'm contemplating just using the pinhole disk on my dSLR).