First I want to say welcome, from a fellow
Torontonian
!
Questions about the E-500 should really be in the Olympus dSLR forum at
http://forums.steves-digicams.com/olympus-dslr-40/
rather than here, which is meant for Olympus P&S cameras. Don't worry about reposting, a moderator will soon come along an move the thread over there (if it hasn't already been done).
Quote:
Originally Posted by
citygirl
Whenever I turn it on it shows on the screen "Dust Reduction" and it does the little animation but when I want to see the actual menu so i can adjust settings it does not show up.
So when you push MENU, or INFO, nothing shows up, but other times the screen works fine?
Quote:
Originally Posted by
citygirl
The screen just goes black. It's like it is turned off but is not. When I change settings from manual to shutter priority etc the screen is still black as if it is not turned on?
The screen doesn't turn on to display things when you change the mode dial, UNLESS you select SCENE mode. You can have the screen display most of the settings by pressing the INFO button once, or more detailed settings by pressing it a second time...pressing it a third time turns off the screen.
Quote:
Originally Posted by
citygirl
When I press other buttons like review I can see my pictures on the screen but other than that it does not seem to work. Also the AEL/AFL button isn't working now and it won't change the screen settings. I don't know why this is happening. If someone could help that would be great.
AEL/AFL only does certain things depending on what shooting mode you're in, and what you have programmed the button to do from the menus; to be honest I rarely use that button; I only use AFL when I have the camera set to manual focus (MF) and I want it to temporarily autofocus.
If the manual is too much, Henry's carries a DVD that teaches you about the E-500, (although you might have to special order it)...it's called "
Jumpstart Guide to the Olympus E-500
"...it goes for $30 and the link to it is:
http://henrys.ca/17986-JUMPSTART-GUI...-E500-DVD.aspx
If you need more help, or you want me to check your camera to make sure all is OK, I'm in Mt.Pleasant/Eglinton area, and we could meet at a coffee shop or something.
In addition, there are a group of us who shoot with Olympus cameras on the "
Toronto Photography Meetup Group
"...it's a site where photographers in Toronto can arrange meets to go out and shoot, and also arrange socials. Check out
http://tpmg.ca/
Also the Oly users on TPMG arrange a few Olympus ONLY (ok Panasonic 4/3 & m4/3 is allowed too) meets a year to talk gear and try out each others' lenses and bodies. We'll probably have one in the next month or two where we meet on top of an apartment building so we can shoot the skyline. Below is one of the pictures I took at the last one, moving the camera while the shutter was open, taken with the E-330...I'm sure you will recognize at least ONE building in that picture: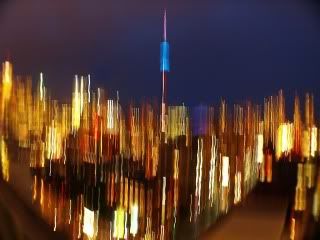 Larger version at
http://img.photobucket.com/albums/08...y/P6111964.jpg