For testing purposes I bought a
Lumix 3D lens H-FT012 for my GH1
.
Panasonic writes, this lens only works with GH2/GF2/G2 (G2 after update)
for 3D pictures - not for 3D videos.
This is not the full truth :-) Of course it works with GH1/G1, but it
is a little bit more work to get 3D pictures.
I never saw this lens with GH2/GF2 ... only few exemplars are available now.
But I think, it works in this way: two lenses make (two) side by side pictures,
each with half horizontal pixel number (or less) and camera firmware
makes a left and a right picture for 3D. Half horizontal pixel number is enough
(> 2000 pixels) - 3D monitors/tvs have max. 1920x1080 !
GH1 und G1 do not have this firmware - you has to do this for you.
A picture made with GH1 & H-FT012 (out of camera) looks like that - attention -
left picture is right, right picture is left!
There are enough programs to make a good 3D picture from this result -
I use StereoPhotoMaker. Some mouseclicks, auto adjust and cut to free
selected width x high (I use 16:9, but 4:3, 3:2, 1:1 etc. is also available) ...
and save as MPO. Thats all.
You can also select for saving double pictures or red/green etc. and look them
with cheap glasses.
Each/most 3D monitor/tv can display MPOs (multiple pictures object).
You either need a Zalman 1920x1080 3D monitor (polarisation line for line)
and passive 3D pol glasses or an Acer (or similar) 3D monitor or 3D tv
and active shutter glasses (f.e. nVidia, Samsung, Sony, ..)
Using/buying the Lumix 3D lens makes not big sense - even not for GH2/G2/GF2 -
for same price you get Fuji Real3D W1 - with 2x 10 megapixels and 3D video
640x480 or for some bucks more you get the (5x) better Fuji Real3D W3 - with
2x 10 megapixels and 3D video 1280x720 and a very good lenticular display
(looking 3D photos/videos without glasses)
Best - and cheapest solution - is using two small cameras with 10/12/14 megapixels
and 1280x720 HD video or 1920x1080 fullHD video - for same price like Lumix 3D lens
(which has fix aperture 12 :-( and fixed 12.5mm=65mm :-( )
With two cheap rail-mounted cameras you also can use zoom and get full resolution
in 3D. Even for videos - Lumix 3D lens cannot take videos! Even not with GH2/G2/GF2!
I use two Canon IXUS 100 (€ 150 each) and SonyTX7/SonyTX9 for 3D photos / 3D videos 1280x720 and
1920x1080.
For static objects you can use ONE camera for 3D ... from HelloKittyCam up to Leica M9.
Make a picture, move some centimeters to right, make a second picture - that's all.
No one can distinguish these 3D photos from photos made with a "real" 3D camera after
using StereoPhotoMaker for some minutes. Of course they are "real" 3D pictures!
My "best" 3D camera is my Sony TX7. Lumix 3D lens nearest distance is 60cm (and parallaxe
is fixed!), with my Sony TX7 I can take 3D macros down to 5cm and less.
Combining it with my Sony TX9 lets take excellent 3D fullHD videos with 1920x1080 -
you never can do this with Lumix 3D lens.
Price of Lumix 3D lens is ~ €200 - for this money (or a little bit more) you get
TWO cameras/camcorders with 1x-3x zoom, 5-14 megapixels, 1920x1080 video ..
Remember: Aiptex (phone-sized) 3D i2 has "nearly same lenses" ;-), a 2.4" lenticular display,
makes 3D photos and 3D 1280x720 (side-by-side) videos - price is € 149 !!! For a full 3D
camera/camcorder ... hmmm ... with low quality :-(
---------------------------------------------------------
Zu Testzwecken kaufte ich mir ein
Lumix 3D Objektiv H-FT012 für meine GH1
.
Panasonic schreibt, dieses Objektiv funktioniert nur mit GH2/GF2/G2 (G2 nach update)
für 3D-Bilder - nicht für 3D-Videos.
Dies ist nicht die volle Wahrheit :-) Natürlich funktioniert es mit GH1/G1, aber es
braucht ein paar Mausclicks um zu 3D-Bildern zu kommen.
Ich habe bis jetzt nicht die Funktion des Objektives an einer GH2/GF2 gesehen, da diese
Kameras erst in den Verkauf kommen. Aber ich denke, es funktioniert so: zwei Linsen
machen (zwei) Bilder nebeneinander, jeweils mit der halben horizontale Pixelanzahl und
die Kamera-Firmware macht ein linkes und ein rechtes Bild für 3D. Die halbe horizontale
Pixelanzahl reicht locker (> 2000 Punkte), weil 3D-Monitore / Fernseher max. 1920x1080 haben!
GH1 und G1 verfügen nicht über diese Firmware - man muss das also selber machen.
Ein Bild mit GH1 & H-FT012 gemacht sieht so aus - Achtung - linkes Bild ist rechts,
rechtes Bild ist links!
Es gibt genug Programme, um ein gutes 3D-Bild aus diesem Ergebnis zu machen -
Ich benutze StereoPhotoMaker. Einige Mausclicks, auto adjust, zurechtgeschnitten in beliebig
Breite x Höhe (ich benutze 16:9, auch 4:3, 3:2, 1:1 oder beliebiges x:y ist möglich) ...
und Speicherung als MPO. Das ist alles.
Gespeichert werden kann in allen möglichen 3D-Varianten, also auch rot / grün usw.
Jeder / die meisten 3D-Monitore / Fernseher kann MPOs darstellen (multiple pictures object).
Entweder ein Zalman 3D-Monitor 1920x1080 (Polarisation Zeile für Zeile)
und passive 3D-Brille oder Acer-fullHD (oder ähnlich) 3D-Monitor oder 3D-TV
und aktive Shutter-Brille (zB nVidia, Samsung, Sony, ..)
Die Verwendung/Kauf des Lumix 3D-Objektives macht nicht grossen Sinn - auch nicht für GH2/G2/GF2 -
zum gleichen Preis bekommt man eine Fuji Real3D W1 - mit 2x 10 Megapixel und 3D-Video
640x480 oder für ein paar Euro mehr erhält man die (5x) bessere Fuji Real3D W3 - mit
2x 10 Megapixel und 3D-Video 1280x720 und einem sehr guten Lenticular-Display
(3D Fotos / Videos ohne Brille)
Beste - und billigste Lösung - sind zwei kleine Kameras mit 10/12/14 Megapixel
und 1280x720 HD video oder 1920x1080 fullHD Video - zum gleichen Preis wie die Lumix 3D Linse,
die eine sehr lichtschwache Fixblende 12 :-( und eine fixe Brennweitefixiert 12.5mm = 65mm :-( hat.
Mit dieser Paarung von zwei Billigkameras kann man auch zoomen und erhält für jedes Bild die volle
Auflösung in 3D. Auch Videos sind möglich - das Lumix 3D-Objektiv kann keine Videos!
Auch nicht mit GH2/G2/GF2!
Ich verwende zwei Canon IXUS 100 (je 150 €) und SonyTX7/SonyTX9 für 3D-Fotos / 3D-Videos und
1280x720 bzw. 1920x1080.
Für statische Objekte kann jede (einzelne) eine Kamera zum 3D-Einsatz gelangen ... von HelloKittyCam
bis zur Leica M9. Es wird ein Bild gemacht, die Kamera ein paar Zentimeter nach rechts gerückt
(alles freihand!), ein zweites Bild gemacht - das ist alles.
Niemand kann diese 3D-Fotos von Fotos von solchen unterscheiden, die mit einer "echten" 3D-Kamera gemacht
wurden - es sind ja "echte" 3D-Bilder!
Meine "beste" 3D-Kamera ist meine Sony TX7. Mit demLumix 3D Objektiv ist der Nahabstand 60cm (und Parallaxe
ist fix!), mit meiner Sony TX7 kann ich 3D-Makros bis zu 5cm Nahgrenze machen - und weniger.
In Kombination mit meiner Sony TX9 auch hervorragende 3D-Videos mit fullHD 1920x1080 - mit dem Lumix
3D-Objektiv unmöglich.
Der Preis des Lumix 3D-Objektives ist ~ 200 € - für dieses Geld (oder ein wenig mehr) bekommt man
zwei Kameras / Camcorder mit 1x-3x-Zoom, 5-14 Megapixel, 1920x1080 Video ..
PS: die (handy-grosse) Aiptex 3D i2 hat ein 2,4" Lenticular Display (relativ unbrauchbar),
macht 3D-Fotos und 3D 1280x720 (Side-by-side) Videos - Preis ist 149 €! Eine vollständige 3D-
Kamera / Camcorder ... hmmm ... mit geringer Qualität :-(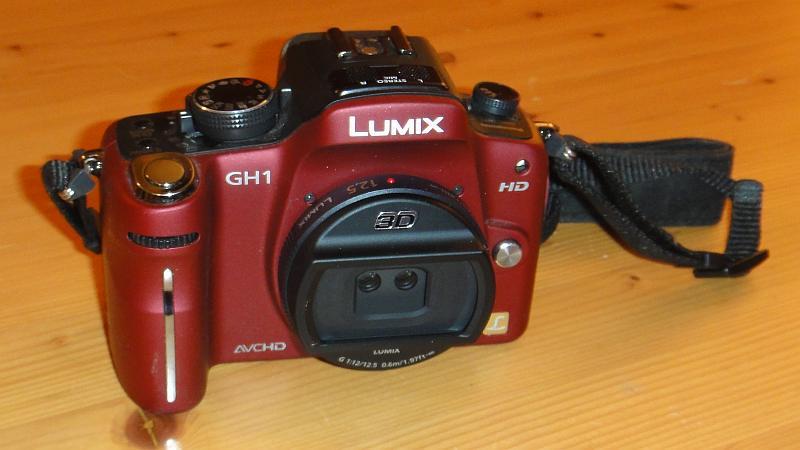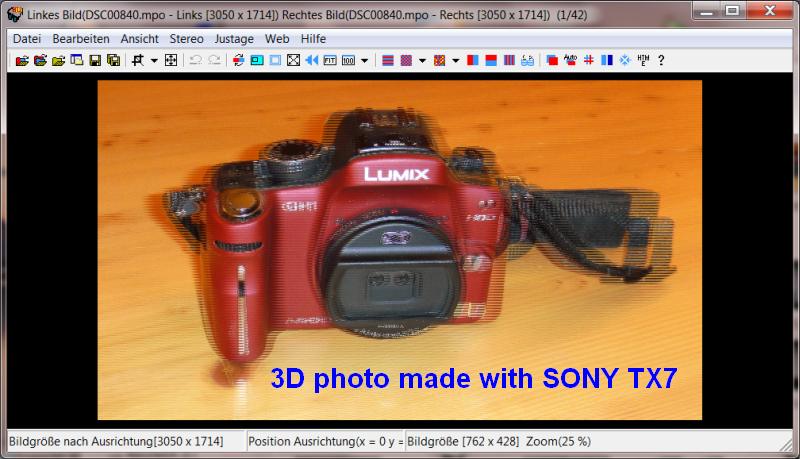 Aiptek 3D i2 - price € 149
, 2D/3D photos and video (1280x720 - side-by-side)
simple to use - but poor quality - I returned it.