Quote:
Originally Posted by
boBBrennan
...hi mono,

Sorry to hear about the finger, I asked of the lens because I have an Oly E-P3 with just the 14-42 m43 lens for micro but I use my 43 lenses with the E-P3, particularly the Oly ZD 70-300 and get good results with it. The monarch butterflies here have been spectacular the past few weeks.

I see a giant swallowtail above and what I believe is a buckeye, I don't know the last two. What I do know & like is that the color and composition are very good, well done.
To be honest, Bob, I think of the finger as more of an inconvenience than anything else, especially when I consider other much, much, worse hand injuries that I saw while I was attending the hospital.
Meanwhile ... back to photography...
Before I went on my holiday, I tried using an old Sigma 28-80 lens on my G3. Having to focus manually was interesting to say the least. I couldn't find any butterflies on the outing as they've been in short supply around here this year, but there were some hoverflies and the like.
1.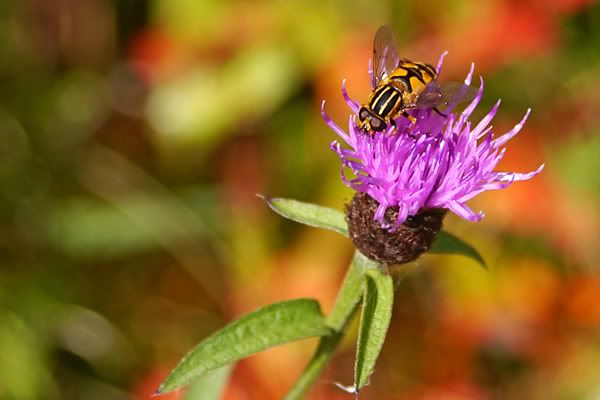 2.
Regarding the butterflies at the park in Spain, I haven't gotten around to identifying them all yet, but I'm (fairly) sure the third is a Dusky Owl (Caligo Illioneus Oberon) and the last is one the longwings, Heliconius Charitonia.
Thanks again for all the kind comments.
Kat