My beach weekend was full of learning experiences. It was lousy weather and Saturday there were no surfers out, so I decided to stay indoors. I went to the Birch Aquarium, Scripps Institute of Oceanography's aquarium. I've been there before, right after I got the K5 and had some minor (not great) success using the 35 macro lens on it. Shooting pictures in an aquarium is always difficult because the lighting is so dim. I took the Q mainly because it fits in my purse without effort, though I had planned on using the K5 for most of my time there. I had decided that 1250 ISO was about as high as one could go with reasonable results, so I figured I wouldn't have enough light to keep camera shake from being an issue.
But it didn't quite work out that way. I still won't sell the K5, but I thought my results with the Q quite acceptable for the most part. I did run everything through DeNoise and played around with Topaz Lab's new Clarity plug-in for some tonal adjustments before using Detail for a final slight sharpening. Here's some of the results:
Q, 01 lens:
The same upside-down eel taken with the K5 and DA35 macro:
Not sure but I think the Q's AWB is a bit more like my memory of the scene. But the K5's is probably corrected better.
One of my favorite pictures of the day:
One of the things that Birch Aquarium is known for is breeding sea horses. They have a number of tanks of various types, some bigger than others. The last time I was there I got very few reasonable pictures with the K5, here are a few I got with the Q (and no, not all were good, but I was surprised at how many keepers I did get).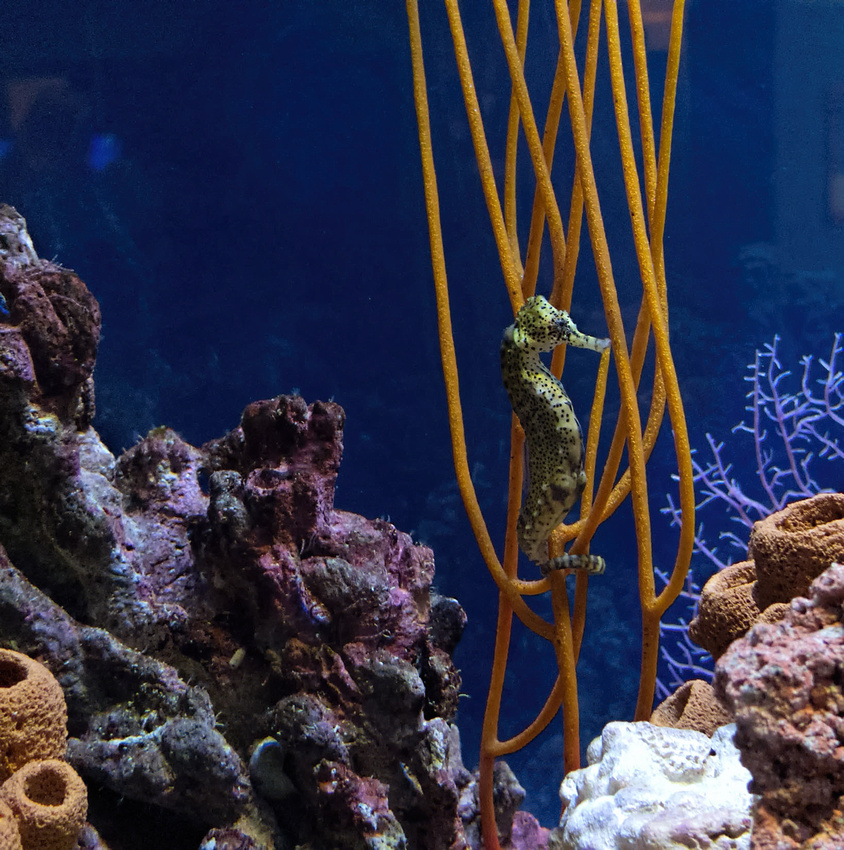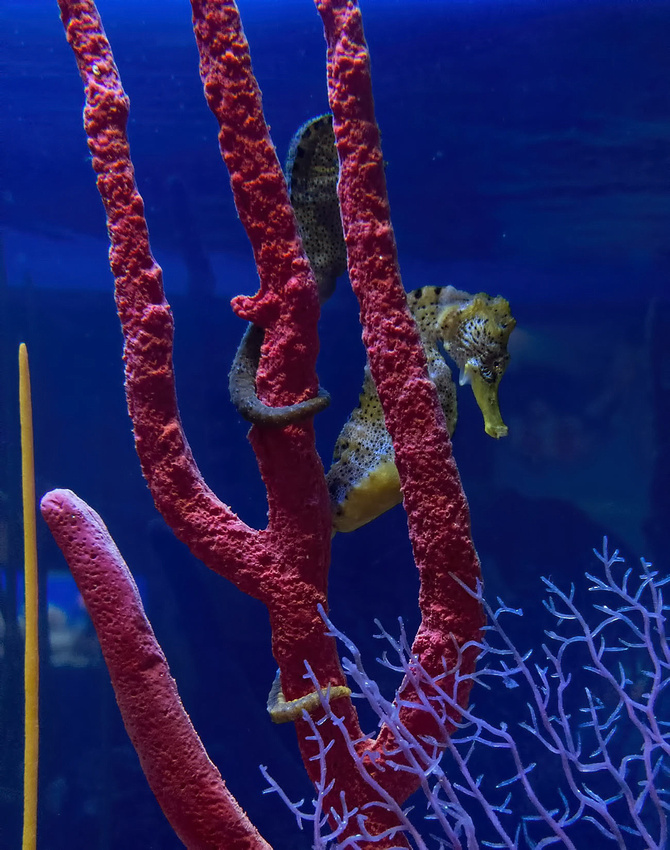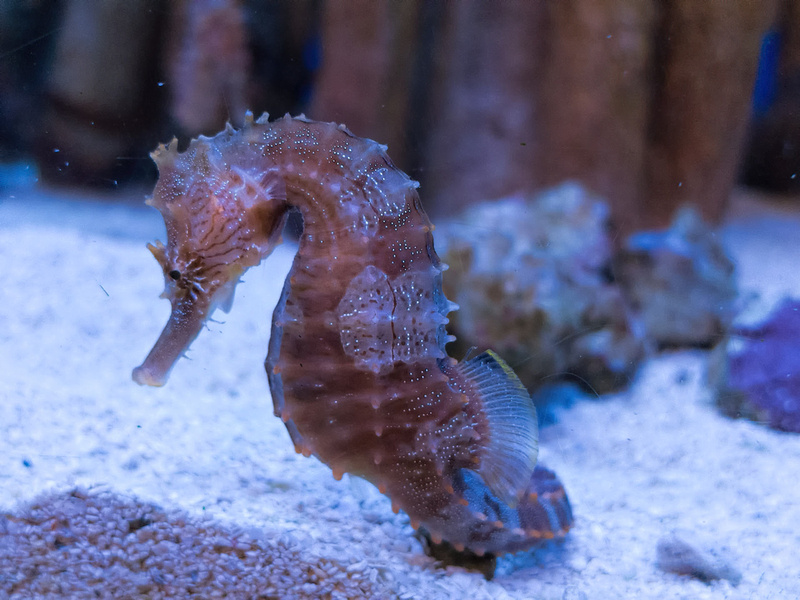 And another one with the K5. Focus was critical since I was shooting at such large apertures, and I think that's one of the reasons the Q did so well - the bigger dof with the tiny sensor helped overcome the ISO limitations.
After walking through the aquarium with the Q and 01 lens and the K5, I went through again with the Q and 06 lens, shooting at 2.8. The results weren't as good, not surprising since it is that much longer of a lens. But it wasn't completely hopeless: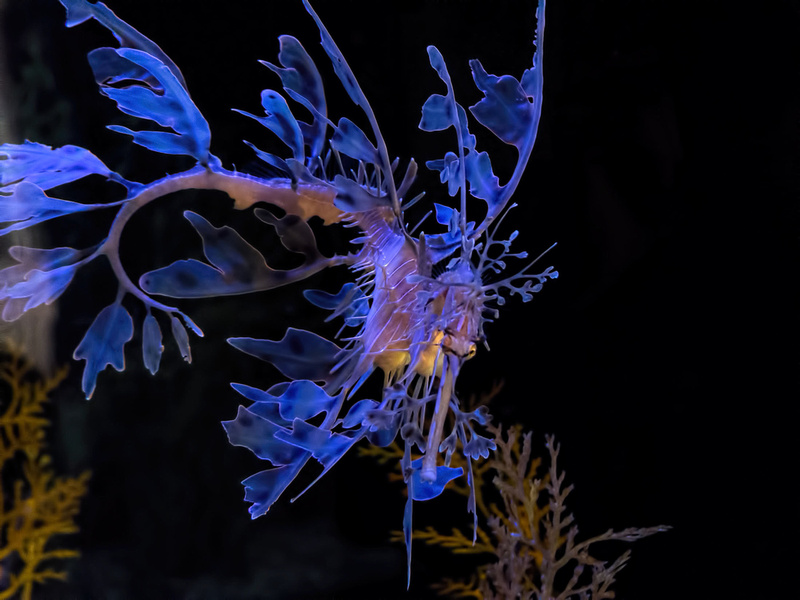 With the 01 lens:
Scripps Institute is affiliated with UCSD and Birch Aquarium is oriented toward education. They have information geared for all ages, and one of their displays was about shells, asking you to look closer at them.
I had a great time and went away from the aquarium quite impressed.
I wasn't so impressed Sunday. Surf was up and there were surfers to photograph. I dragged my tripod down to the beach, only to discover I couldn't find my tripod mount! So I ended up trying to hand-hold long lenses - the DA200 and Vivitar 105 macro. I had almost no success at all, focus was off and/or I couldn't keep the camera still enough even for 1/640 and 1/1000 shutter speeds. Also, the Q has enough shutter lag to be really annoying. And trying to acquire the surfer in the LCD before he wiped out or pulled out was just about impossible for me with the DA200. I think I could correct that to a certain extent by having a tripod with a sidekick or gimbal and a loupe, but the shutter lag means that the Q won't be my first choice for surfing pictures, regardless of the "reach" (which would have been very useful if I could have managed to get something in focus in the frame). I think I'll stick to aquariums.
I also posted some jelly fish pictures under the bi-weekly challenge. You can see them here:
http://forums.steves-digicams.com/bi...-creature.html
In all I had a great weekend away from home. I learned a bit more about the Q and some of the strengths and weaknesses. I really need to find my tripod mount for the adapter and really practice with K-mount lenses since I had almost no luck at all with them this weekend. While it was not all successes, the camera continues to impress me.