Hi,
Firstly I have one of the following cameras :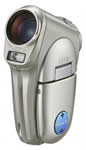 On playback of recorded video I find that the audio aspect seems very distorted when it tries to handle loud noise levels. Kind of like a gargling sound over the actual sound being recorded. Low frequeny sound like bass makes it worse.
Does this sound like the microphone is playing up of is it a characteristic of this camera?
Thanks
Frank